If you're looking to add some family fun to your Christmas this year, take a look at this list of games and get ready to bring the laughter! Most games required little to no extra supplies and can be adapted to suit different age and skill levels.
Pick Up Candy Canes
Like a game of pick up sticks, except we are using Candy Canes! Spread out a couple of boxes of candy canes on the table, and give one to each player. Hold the end of the cancy cane in your mouth and use the hook end to pick up as many of the other candy canes as you can. Either keep playing until all candy canes are picked up, or set a timer and race the clock. The player with the most candy canes collected is the winner.
Find a full list of instructions at agirlandagluegun.com
Charades
This is a family favourite that everyone can play! The rules are basic – no talking, sound effects, or 'drawing' the letters in the air – and you can either have pre-written options or play freestyle.
For the pre-written option, write out a selection of terms to act out on a piece of paper (or type & print). Cut out each option and put into a bowl for each player to draw from when it's their turn. Add some Christmas inspired ideas and for younger kids, you might like to have a separate bowl with easier options for them to choose from.
I've put together a printable sheet of Christmas Charades ideas – with an Aussie Twist! Click the image below to download your copy, then simply print, cut, and play!
---
---
Guess the Carol
Each player hums the tune to a Christmas song for the others to guess. This is a fun game to play during a road trip, or during Christmas dinner as it doesn't require any equipment and can be played seated.
Blind Christmas Tree Ripping
This one was found on bestlineonline.com. Everyone gets a sheet of green construction paper. Holding it behind their backs, each player attempts to rip the paper into the shape of a Christmas tree. The winner is the one closest to looking like a tree.
Candy Cane Hunt
Hide Candy Canes around the house/yard and challenge the rest of the family to find them. Let each play take turns doing the hiding – it's fun to see how creative the kids get with this one!
Paper Plate Game
Each player gets given a paper plate and something to draw with (crayons/pens). While holding the paper plate on top of their head, players draw something Christmas related. For example, Frosty the Snowman or Santa pulling a sleigh.
For a more detailed description of this game go to https://happyhomefairy.com/a-super-fun-christmas-game/
Christmas Bingo
Print out BINGO cards for each player and nominate a Bingo Caller. Use Christmas Candy (M&M's work well!) as the Bingo markers.
Click the image below to download our Christmas Bingo game. You'll get 5 cards as a PDF doc that you can easily print out and start playing!
---

---
Christmas Song Pictionary
Draw the songs in this fun Christmas themed Pictionary game! Find the free printable cards here.
Snow Shovel Race (Minute to Win It style)
Race the clock to see who can shovel (spoon) the most amount of snow (cotton balls)!
Find out all the info at housingaforest.com
Christmas Treasure Hunt
Send the family on a treasure hunt through the house by setting up a series of clues, or issuing them with a map, that leads them to the treasure.
A great example is over at laptopsandnaptimes.com
---

---
Would You Rather?
Get the creative juices flowing and put your thinking caps on for a game of Christmas Would You Rather? There are some great printables online, like the one below, with ready-to-go questions. Or you can make them up as you go!
A Christmas Tale… One Word/Sentence at a time!
Write your next bestseller one word or sentence at a time – the results are hilarious! The idea of this game is to simply take turns adding either one word or one sentence to build the story. This is a great game to play in the car and can be adapted to any theme or age groups.
For example, player 1 starts off with "Twas the night before Christmas" and player 2 might continue with "And Santa had gone missing". Player 3 can then set some mystery with "The elves found a ransom note" or simply have some fun with "The elves found him at the pub"!
Build 'em Up!
Kids and adults alike love to stack things up! Build a fort from marshmallows, construct a Christmas tree from paper cups, or use matchsticks and lollies to make a tower. Dig out the old game of Jenga and see how tall you can go before it comes crashing down is fun.
Just Add Oven Mitts and Chocolate
For this one you'll need a large family block of chocolate (think Cadbury Dairy Milk) that has been frozen, two oven mitts, a santa hat, knife & fork, and two dice. Player 1 puts on the hat and oven mitts, picks up the knife and fork and attempts to start cutting up the chocolate. Meanwhile, player 2 starts rolling the dice in an attempt to land on a double (or any combination that you decide prior to the start of the game – we've always gone for doubles)
Once a double is rolled, player 1 needs to quickly stop cutting and hand over the hat, mitts and cutlery as it's now Player 2's turn to start cutting the chocolate up while Player 3 starts rolling the dice.
Find a short video at itsalwaysautum.com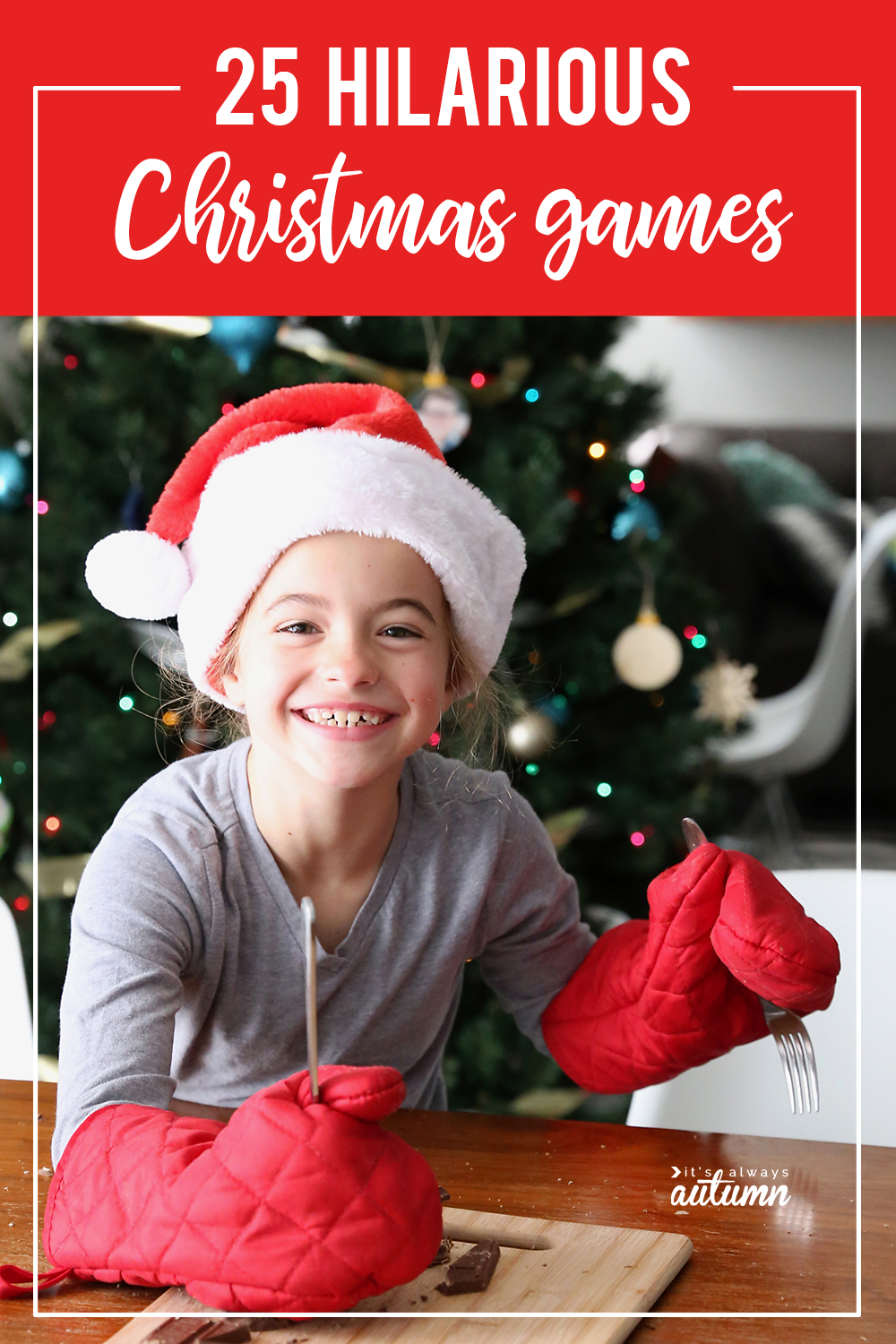 ---
What are your favourite games to play as a family at Christmas? Let us know in the comments!
---
Pin it for later!
---